Cops Helping Cops News - NYPD PBA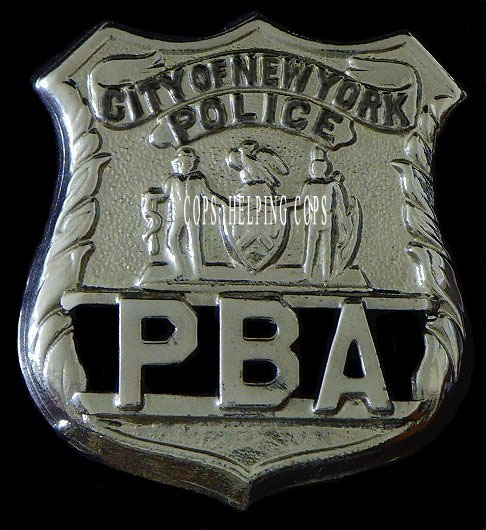 (August 2, 2007)
Cops Helping Cops Attends NYC PBA 2008 Conference
Cops helping Cops attended the NYC Patrolmen's Benevolent Association (PBA) for their annual conference in Albany, New York. The atmosphere was especially positive as a HUGE milestone was accomplished by the PBA as NYC Police Officers were finally given the pay increase they deserved. The almost 17% increase, over a four year period, is a much need relief to the Officers.
The NYC PBA donates to Cops Helping Cops
Today the NYC Patrolmen's Benevolent Association (PBA), donated 10,000 embossed wrist bands to Cops Helping Cops. This gift, will allow CHC to raise between $40,000 and $50,000.
Each wrist band is blue in color and has written "NYPD / NOPD" and "Cops Helping Cops." CHC will be selling these bands at fundraisers and here, on the web.
(August 2, 2007)
Cops Helping Cops invited to attend NYC PBA conference at the end of August
Cops helping Cops has been invited by the NYC Patrolmen's Benevolent Association (PBA) for their annual conference in Albany, New York. By allowing Cops Helping Cops to attend the conference, they will be able spread the word and get more officers down to help in New Orleans. CHC will also be selling T-shirts and other items to raise money for these trips.
The conference is set for August 29, 30, and 31st.
Member of the NYC PBA signs up for our July trip.
Cops helping Cops will have a special guest joining them on their next trip down to New Orleans. Robert Iaboni, a NYC PBA Trustee, and son will accompany other officers down south to help with rebuilding New Orleans. Mr. Iaboni will not be the only NY police Officer going as he will be working with other fellow NYC Police Officers.
The trip, scheduled July 21st, will also have Officers from Michigan and Colorado. The Officers will be down there till the 29th of July.
Cops Helping Cops attends PBA Holiday meeting for NYPD.
Cops helping Cops was invited back to attend the Holiday meeting for the PBA. The PBA's president, Patrick Lynch, allowed Cops Helping Cops to not only sell items, but hold a raffle to raise money for next months trip. "The PBA, and myself, will help your cause any way we can" Lynch stated. "I think you guys are doing a great job and our Officers have enjoyed your trips". Members of the NYPD showed their support by buying items, raffles, and signing up to go next month. Officers who could not go have signed up for future trips.
The Raffle was for a jacket, donated by Maria Martinez. Maria owns a company called "PRIDE SUPPLIES" which is located in the South Shore Mall in Bayshore, New York. The jacket was won by Officer Rohrbacher who picked out a Marine jacket for his brother who is currently in the service. Until then, Rohrbacher, was not sure exactly what to get him and was very happy when his number was called.
Cops Helping Cops would like to Thank the members of the NYPD, the PBA, and Maria of Pride Supplies for their support.
Cops Helping Cops speaks at the NYPD PBA meeting
David fowler, Co-Founder of Cops Helping Cops and Undersheriff in Osceola County Michigan, got the chance to speak at the monthly NYPD PBA meeting. Undersheriff Fowler, after arriving that morning from his home town, spoke about the importance of the program and urged officers to sign up and help out. Fowler was confronted by many officers at the meeting who expressed their interest in going.
At the meeting, Fowler gave out a few hundred business cards and brochures and continued to speak with the officers long after the meeting was over. Cops Helping Cops Helping Cops was also invited back next month for the PBA's annual Christmas meeting. Patrick Lynch also commented on how much the officers like our program.
Cops Helping Cops meets with the NYPD and the NYPD PBA
Cops helping Cops was invited to join the New York Police Department's monthly Patrolmen's Benevolent Association (PBA) meeting. With the help of Police Officer Steven Brooks, Cops Helping Cops was allowed to set up and sell T-shirts and make it's presence known more to the NYPD. Police Officer Steven Brooks had attended one of the trips to New Orleans over Memorial Weekend, 2005 and is currently the delegate for HWY 3.
The NYPD supported Cops Helping Cops by buying the T-shirts and helping us raise money for future trips. After the meeting Cops Helping Cops was introduce to the members of the PBA, including PBA president, Patrick Lynch. Patrick showed his support by then buying some of the shirts.
Cops Helping Cops was then invited back to each meeting to not only raise money, but to get the word out and keep a steady flow of Officers coming down and helping our cause.